On May 26, Water for Colorado hosted a lively event with some of the state's most sustainably-minded and water-conscious breweries and distilleries. The evening's conversation focused on the relationship between craft drinks, healthy rivers, and clean, flowing water. 
"Our consumers and our teams are here because of what water in Colorado provides — the rivers, the recreation, and agriculture. We, and everyone else, is here because of the water in Colorado," said Carol Cochran of Horse & Dragon brewing — a member of the Western Rivers Brewers Council, BreWater, and Craft Maltsters Guild. 
Kevin Greer of Baere Brewing moderated the discussion with engaging and thought-provoking questions for the panelists: Al Laws of Laws Whiskey House, Connie Baker of Marble Distilling Co., Lizzy Waters of Upslope Brewing, and Carol Cochran of Horse & Dragon Brewing. The group covered a wide range of topics, from the importance of resilient agriculture in the face of ongoing drought to the challenges associated with prioritizing conservation in a water-heavy industry.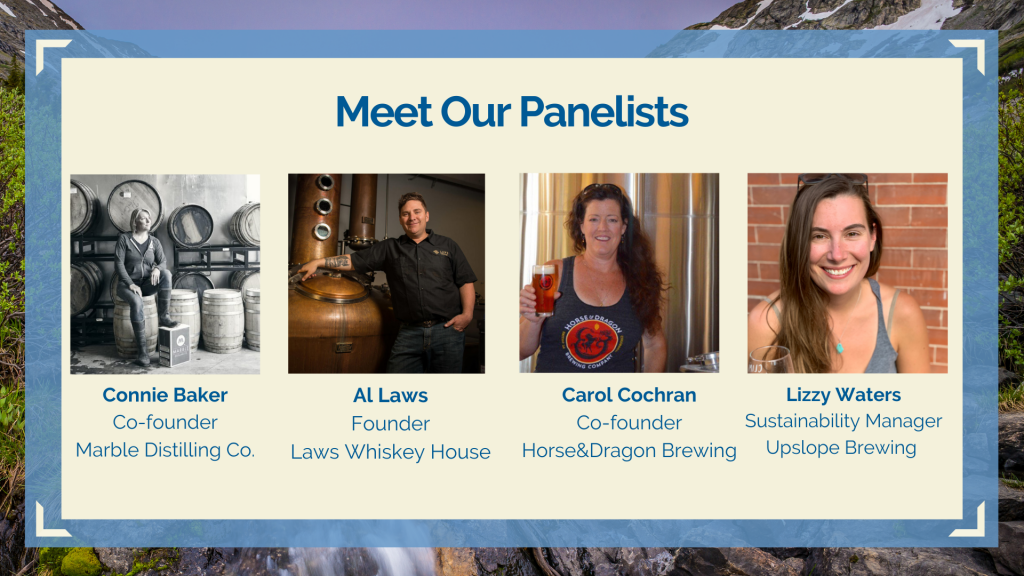 As Lizzy Waters said, "Beer is mostly water. And, indirectly, all our other inputs require water — hops, malts, and so on. Every facet of our business relies on water." Creating Waters'  sustainability manager position is a perfect example of how Upslope is ramping up its conservation efforts.
Each distillery and brewery has found unique ways to incorporate sustainability into its business. From upcycling water used during the cooling process to relying on heirloom grains from the San Luis Valley to working with partners such as BreWater, Trout Unlimited, the Department of Agriculture, and the Western Rivers Brewers Association, these craft drink creators know water is their most important ingredient, and have made it a priority to protect it. 
"You have to make it exist before you can make it better…People do care," Laws said. "We want to make sure that our impact is the lowest. Everyone here shares that feeling." Among other sustainability efforts, Laws highlights on every bottle the local, low-water grains and malts used in their whiskeys, with names like "San Luis Valley Rye."
Though many of the panelists expressed that, despite their best efforts, they wish they could be doing even more to conserve water and energy, many of them are at the leading edge of creating infrastructure, processes, and industry standards for sustainability. 
"The only water we're actually using is in the bottle," said Baker. "Everything else is reclaimed, including the energy." Marble Distilling Co. is 65% of the way to net zero electricity, with the goal of 100% by 2022. 
Following the conversation, attendees had an opportunity to learn more about the distilling and brewing industries through breakout sessions. In one room, Al led a whiskey tasting and  Connie walked participants through how to craft two cocktails with Laws and Marble spirits. In the other room, attendees learned about the Colorado River and the importance of water in brewing craft beer through trivia.
Feel like you missed out? Not to worry — below are the recipes from Marble, and you can look through our trivia slides here. 
The JJ Curly (Marble's take on an Old Fashioned)
2 oz Marble Distillery Hoover's Revenge Ragged Mountain Rye (or, Laws Four Grain Bourbon; or your
favorite whiskey)
1/2 oz Marble Distillery Gingercello (or simple syrup)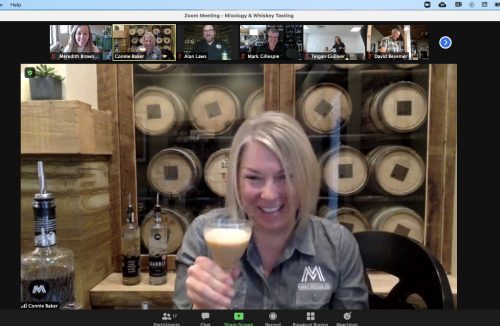 1-2 dashes aromatic bitters
EXpresso Martini
2 oz Marble Distillery Moonlight EXpresso coffee liqueur
1 oz Marble Distillery vodka

1/2 oz cold brew coffee
Splash of heavy cream
A full recording of the evening's panel is below. Sign up for our email list to stay up-to-date on future Water for Colorado events. And when you're wondering which craft beer or liquor to purchase, remember to support these companies that are leading the way to protect Colorado's rivers and watersheds. 
---
Jun 10, 2021 -
Denver, CO — The Water for Colorado Coalition today celebrated the passage of HB21-1260, which allocates $20 million to the Colorado Water...