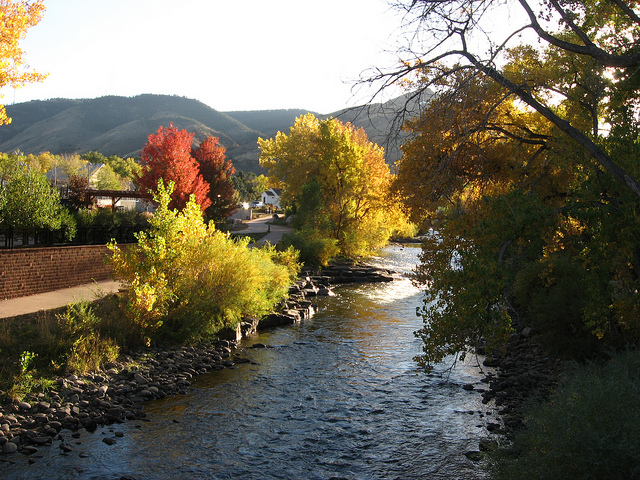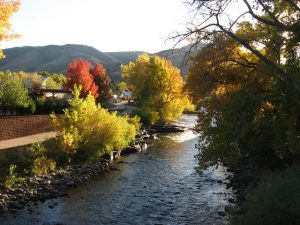 PUEBLO, May 21 — Experts from a variety of conservation groups will offer their public comments this week about the importance of sustaining Colorado's rivers as part of the first-ever statewide Colorado Water Plan. They will focus on the benefits of keeping rivers flowing for recreation and tourism, resilient and profitable agriculture and rural communities, and the need for incentives to encourage improved efficiency and conservation to avoid large water diversion projects.
On Wednesday and Thursday, May 21 and 22 in Pueblo the Colorado Water Conservation Board (CWCB) will hear from American Rivers, Environmental Defense Fund, Western Resource Advocates and many others who will share solutions to ensure Colorado has enough water for everyone now and into the future. These solutions will help the state avoid the economic and environmental costs associated with depleting Colorado's rivers.
Gov. John Hickenlooper has directed the CWCB to develop the statewide water roadmap, which will affect Colorado's urban, rural, business and agricultural communities. This week's meeting is part of a series of meetings around the state to solicit public comments as the board puts together a plan.
Despite a rapidly growing population, experts assert cost-effective and common sense water conservation, re-use and improved efficiency can ensure all Coloradans have the water they need. In addition, experts agree Colorado's rivers are the lifeblood of our state, supporting a $9 billion economy and creating approximately 80,000 jobs in tourism, recreation and other industries. As a result, the CWCB must define urban conservation goals into the water plan.
"This historic water plan is an important chance to set a positive course for future water use in our state, and for Colorado to lead the West in implementing innovative, affordable water measures," said Drew Beckwith, water policy manager, for Western Resource Advocates. "Four principles must be in Colorado's water plan to ensure the future of the state's economy and natural resources: Keep Colorado's rivers healthy, increase water conservation in our cities and towns, provide incentives to modernize agriculture and temporary water-sharing practices, and prevent new, large diversion projects."
One key solution these experts will share is the high value urban water conservation offers, saving hundreds of thousands of acre-feet of water annually simply by employing common-sense measures that will not change our quality of life.
"By adopting simple conservation, efficiency and re-use principles, we can save enough water in a year to fill up two Dillon Reservoirs, which could serve 1.8 million Colorado families," said Ken Neubecker, Associate Director of the Colorado River Basin Program at American Rivers. "And aside from the critical water savings, it costs very little to be efficient, whereas some other ideas can result in billions of ratepayer or taxpayer-funded projects with questionable results."
According to a 2013 Colorado College poll, the vast majority of Coloradans, regardless of party affiliation, agree that using our existing water resources more efficiently is a top priority.
"We look forward to a positive, breakthrough discussion on Wednesday in which we will share all the benefits associated with implementing smart, forward-thinking solutions to protect the people, business, habitats and resources that make Colorado so unique," said Aaron Citron, policy analyst for the Environmental Defense Fund.
The public is encouraged to attend Wednesday's meeting at the Pueblo Convention Center, 320 Central Main St., or to take action in support of common-sense conservation, re-use and efficiency principles by visiting www.waterforcolorado.org.
Let your voice be heard HERE.
***
Environmental Defense Fund (edf.org), a leading national nonprofit organization, creates transformational solutions to the most serious environmental problems. EDF links science, economics, law and innovative private-sector partnerships. Connect with us on EDF Voices, Twitter and Facebook.
American Rivers protects wild rivers, restores damaged rivers, and conserves clean water for people and nature. Since 1973, American Rivers has protected and restored more than 150,000 miles of rivers through advocacy efforts, on-the-ground projects, and an annual America's Most Endangered Rivers® campaign. Headquartered in Washington, DC, American Rivers has offices across the country and more than 200,000 members, supporters, and volunteers. Find your connections at AmericanRivers.org, Facebook.com/AmericanRivers, and Twitter.com/AmericanRivers.
Western Resource Advocates is a regional nonprofit conservation organization dedicated to protecting the West's land, air, and water. Offices or staff are located in Boulder (CO), Phoenix and Tucson (AZ), Pocatello (ID), Santa Fe (NM), Carson City (NV) and Salt Lake City (UT). Go to http://www.WesternResourceAdvocates.org and follow us on Twitter @WRADV.
---